19 09 17
The UK Office of National Statistics has produced a fascinating interactive plot of the causes of death in the UK over the last 100 years.
I've captured a screenshot of the plots but I'd urge to go and have a look at the interactive plot on the website http://visual.ons.gov.uk/causes-of-death-over-100-years/.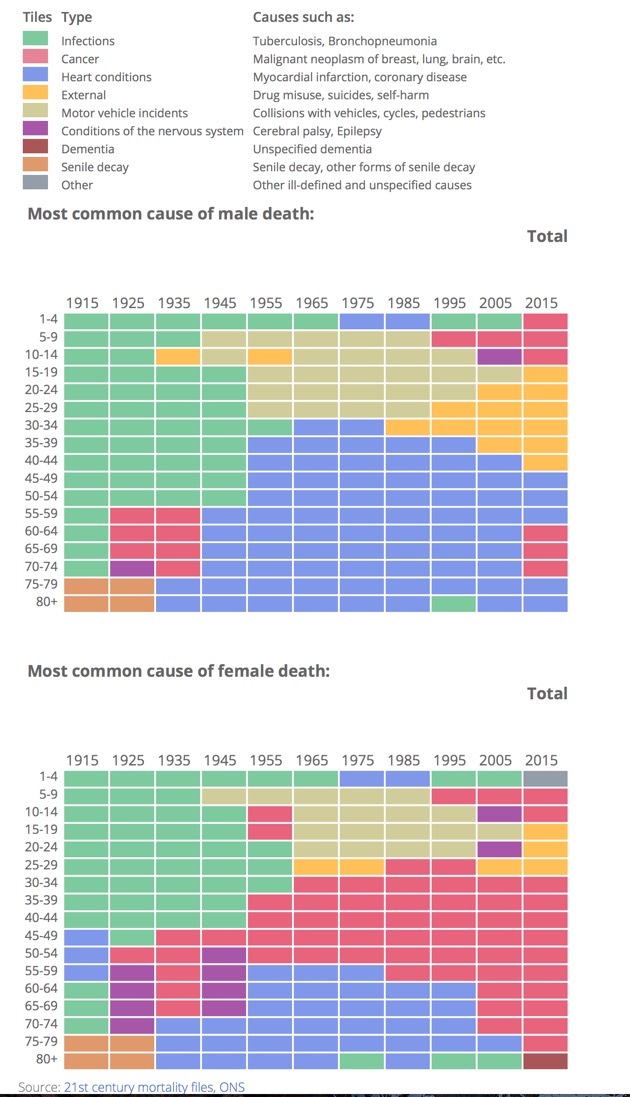 What is very apparent is the impact the introduction of antibiotics had in the late 1940's, and the introduction of mass vaccinations, deaths due to infections have been virtually eliminated.
In men heart disease remains the major killer whilst in women it is breast cancer. Sadly among the young it looks like mental health issues are a major concern.
19 05 17
ChEMBL_23 has been released, it was prepared on 1st May 2017 and contains:
2,101,843 compound records
1,735,442 compounds (of which 1,727,112 have mol files)
14,675,320 activities
1,302,147 assays
11,538 targets
67,722 source documents
Data can be downloaded from the ChEMBL ftp site: ftp://ftp.ebi.ac.uk/pub/databases/chembl/ChEMBLdb/releases/chembl_23
Also includes
Deposited Data Sets
CO-ADD, The Community for Open Antimicrobial Drug Discovery, is a global open-access screening initiative launched in February 2015 to uncover significant and rich chemical diversity held outside of corporate screening collections. CO-ADD provides unencumbered free antimicrobial screening for any interested academic researcher. CO-ADD has been recognised as a novel approach in the fight against superbugs by the Wellcome Trust, who have provided funding through their Strategic Awards initiative. Open Source Malaria (OSM) is aimed at finding new medicines for malaria using open source drug discovery, where all data and ideas are freely shared, there are no barriers to participation, and no restriction by patents. The initial set of deposited data from the CO-ADD project consists of OSM compounds screened in CO-ADD assays (DOI = 10.6019/CHEMBL3832881).
Modelled on the Malaria Box, the MMV Pathogen Box contains 400 diverse, drug-like molecules active against neglected diseases of interest and is available free of charge (http://www.pathogenbox.org). The Pathogen Box compounds are supplied in 96-well plates, containing 10 uL of a 10mM dimethyl sulfoxide (DMSO) solution of each compound. Upon request, researchers around the world will receive a Pathogen Box of molecules to help catalyse neglected disease drug discovery. In return, researchers are asked to share any data generated in the public domain within 2 years, creating an open and collaborative forum for neglected diseases drug research. The initial set of assay data provided by MMV has now been included in ChEMBL (DOI = 10.6019/CHEMBL3832761).
27 02 17
The World Health Organisation has published a list of the top 12 bacteria for which antibiotics are urgently needed in an effort to focus research.
The list highlights in particular the threat of gram-negative bacteria that are resistant to multiple antibiotics. These bacteria have built-in abilities to find new ways to resist treatment and can pass along genetic material that allows other bacteria to become drug-resistant as well.
WHO priority pathogens list for R&D of new antibiotics
Priority 1: CRITICAL
Acinetobacter baumannii, carbapenem-resistant
Pseudomonas aeruginosa, carbapenem-resistant
Enterobacteriaceae, carbapenem-resistant, ESBL-producing
Priority 2: HIGH
Enterococcus faecium, vancomycin-resistant
Staphylococcus aureus, methicillin-resistant, vancomycin-intermediate and resistant
Helicobacter pylori, clarithromycin-resistant
Campylobacter spp., fluoroquinolone-resistant
Salmonellae, fluoroquinolone-resistant
Neisseria gonorrhoeae, cephalosporin-resistant, fluoroquinolone-resistant
Priority 3: MEDIUM
Streptococcus pneumoniae, penicillin-non-susceptible
Haemophilus influenzae, ampicillin-resistant
Shigella spp., fluoroquinolone-resistant
Update
The Community for Open Antibiotic Drug Discovery (CO-ADD) screen compounds for antimicrobial activity for academic research groups for free. The screening includes the top 5 pathogens listed in the WHO priority list, as well as the fungi C. neoformans and C. albicans. Details on how to send compounds are here. All they require is 1mg (or 50uL at 10 mg/mL) of pure compound which will be used for primary screening, hit confirmation, and if active will be used for a broader antimicrobial screening, cytotoxicity and a check for its purity.